I have seven Teddy Ruxpin Answer Box sets. They have a unit with a book attached that plugs into the Teddy Ruxpin and a cassette tape. It is the counting is fun set. I know very little about this toy and am unable to test them. They are dated 1985 and as you can see from the pictures they look new. Five sets have all original packing, latch is on tape yet and instructions are in box. One set is complete but lacks the Styrofoam packing on one end of box. The seventh box has the main plug in unit and book along with the instructions. The cassette tape and the packing are missing.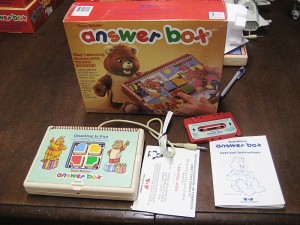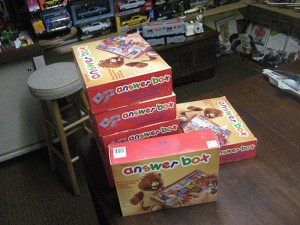 I am asking $10.00 apiece for the Answer Box sets and would consider offers, especially on combinations of toys. I have more Teddy Ruxpin things I will describe below.
I have a Teddy's Winter Adventure Book and Tape. by World of Wonder Inc. It has a 1985 copyright. It is in its box, but the top of the box is torn. The book and tape don't look as if they were ever played with much. I am asking $10.00 plus postage for this set.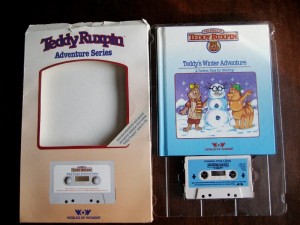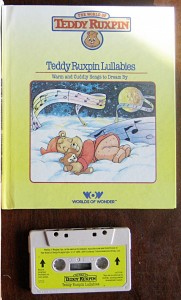 I have the Teddy Ruxpin Lullabies book and tape shown in the picture. It has a 1985 copyright also. The book looks unused but the tape shows some handling. There is no box or papers with it. I would like $ 8.00 plus postage for this set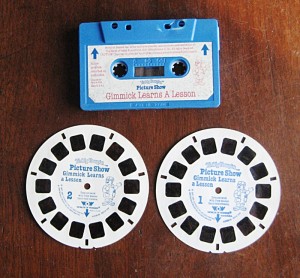 I also have two Picture show discs and the tape that goes with them. They have a 1989 Copyright. The title is Gimmick Learns a Lesson. I have no box or papers with these. They have been played with but look Ok. Interestingly printed on the picture disk is the statement, " will not work in View-Master".
I am asking $6.00 plus postage for this set. I am open to offers and I do accept PayPal. I would also be happy to answer questions. I can be reached at rodander@frontiernet.net.