My Dear Aunt Alyce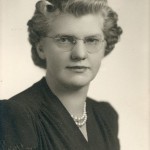 The following story is about traveling in the days before interstate highways. It was found in the papers of my Aunt Alyce's estate. It along with other stories had been written for a college writing class sometime in the middle to late 1940's. I believe she owned a 1939 Chevy with a vacuum shift at least through 1947 which fit the shifting problem she describes. It follows that the trip she describes probably took place during one of those years. Unfortunately I have found no pictures of the car or the trip or any other documentation.
She was a school teacher all her life, never married, staying home to care for her father and disabled sister. A very strong, independent and capable person, she was my favorite Aunt.
AN ADVENTURESOME TRIP
by Alyce Bjuge
A trip to Seattle from Minneapolis can be an exciting adventure! It was for me!
Four women were in the car. I was the only driver. I had inquired about the possibilities of undertaking such a task. I learned that there were two requisites. First, the car must be in excellent shape. Second, the driver must be unafraid. Both of these requirements were met.
At a resting place in Wyoming, we met some travelers who were driving in the opposite direction. They warned us of the bad roads ahead. They urged us to turn back! But good Norsemen are not easily frightened. We went on our way unafraid.
At Cody, Wyoming, we discovered that the highway ran parallel to a river. As the road climbed higher and higher the scene was more impressive. Then came a sharp turn in the road. In fact, it was nearly a ninety degree angle turn. The river did the same. All would have been well had not the driver of the car in front of me slowed down so much. I couldn't keep my motor running at such a low speed while climbing a mountain! My motor died! Now when my motor dies, my shift locks! One look around me convinced me that this was the time for action! No errors could be made! To my left was a deep gorge perhaps three thousand feet down! In front of me was a road slanting straight up. To my rear was a ninety degree curve in the road. I jammed my foot on my brake. (I had no emergency brake.) I ordered the girl next to me to place her foot on that brake and to keep it there no matter what happened. I was then able to start the motor and to shift into low gear.
A few hundred feet from that spot was a parking area. I parked the car. My heart was still pounding. I left the car to view the horrible spot where I had been detained.
The sight that met my eyes was beautiful yet awful. It was a majestic sight! As I stood there I breathed a prayer of thanksgiving! The feeling of helplessness at such a time as this cannot be pictured. It must be experienced.
Some other time may I tell you of another thrilling adventure we had while visiting the peak of Mt. Rainier? I still wonder, at times, how I ever got down that mountain side!