The Simpson's My Story of Life board game. Made in USA by Cardinal Industry's. It has the number 4300 on it and a copyright date of 1990.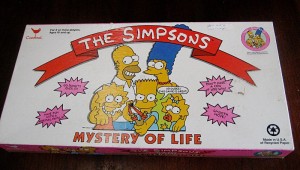 The graphics on box are neat and the condition is good. There is one small nick on box front. The physical condition of the box is very good.
The playing board looks new. From its appearance, I don't think it has ever been played on.
The cards have not been separated from the sheet they were printed on as you can see from the pictures below. This is good assurance that none are missing.
The instruction sheet is included and doesn't look like it has had much handling.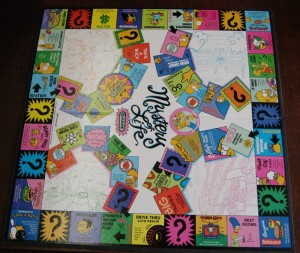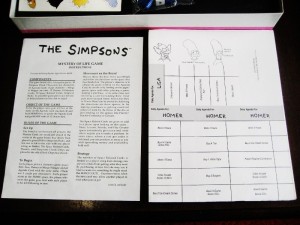 I unfolded the sheet the cards are printed on in the picture on the left below.
The photo below and on the right shows the only shortcoming of the set. The only thing punched out is the Bart Simpson figure and he is missing . Even the stand for him is still here. It makes one wonder what the story behind this is.
As you can see the stands and the dice are sealed in their bag. The paper money is still bound in its pad.
The figures of the Simpsons are very glossy. My picture does not do them Justice. They are really quite clear and nice. This old man will have to work at learning how to take better picture.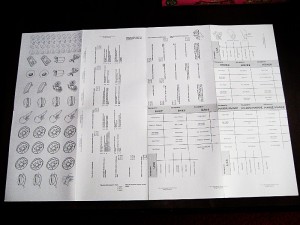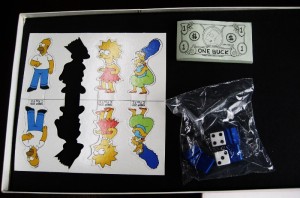 I am asking $19.00 plus postage and insurance for the game. I will consider offers. I do now accept PayPal. I can be reached at rodander@frontiernet.net.