The captain at the Helm
That's me, when the rest of you were soveling snow.  At 68 years of age I had the wheel of a two masted ship at sea. True I wasn't really the captain, but it's OK for an old man to dream. It was a great ride for an old hotrodder.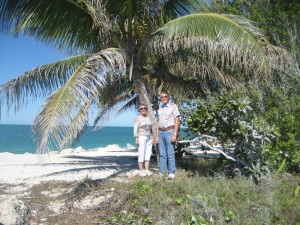 Here Donna and I are on the beach.                                           We really enjoyed the days at Key West.  It is very cosmopolitan, museums, art gallery's, shops, restaurants and open cafes. It reminded me of the way city's were in the 1950s. The weather was great, with lots of sun shine. The town is full of tourists from all over the world and  I really enjoyed visiting with people.  My only regret is that I didn't have my red convertible down there to ride around in.
There are many beautiful and interesting  things I could write about and I will add more later. Here I am at the end of the day, isn't the sun set grand.